Fluo – Autumn.Forever.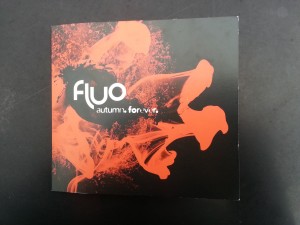 I Fluo sono una valente band originaria di Monfalcone, questo è il loro secondo lavoro, il primo lo abbiamo recensito qui.
Rispetto al precedente "the glowing side of emptiness" il nuovo "Autumn.Forever." spinge gli arrangiamenti e la composizione molto più avanti.
E' veramente notevole la cura per la composizione e soprattutto per gli arrangiamenti e la produzione del cd. Ottimo lavoro per una produzione totalmente indipendente, non legata ancora a una etichetta anche piccola che sia.
Il lavoro è molto più omogeneo rispetto al precedente e spiccano ottime composizioni come "Inside Electra" e "Nighporter", ma anche "Pull the trigger", ottimo lavoro dei synth e della voce. Il basso è bello pulsante come il genere "pretende" e le chitarre, soprattutto in "The other side", sferzano l'aria con riff taglienti.
Le atmosfere sono similari a quelle precedenti, strizzando l'occhio alla new wave anni 80, ma fondalmentalmente non legandosi troppo a quel periodo. Una sorta di new new wave?
Personalmente interessarebbe anche ascoltare qualche cosa in italiano, anche se la lingua italiana è complicata per questo genere musicale.
Di ottima fattura anche i 2 video prodotti per promuovere questo interessante gruppo.
Sono previsti anche un paio di esibizioni live! In questa penisola suonare cose proprie è impresa assai difficile sovrastati da pessime cover band o ancor peggio dalla tribute band.